Tactical backpacks are different from the hiking ones in a big way, i.e., weight. Hiking backpacks are not designed for ultra-light backpackers but strike a balance between durability and weight. On the other hand, tactical backpacks prioritize durability above everything else. This is because they are prepared with thicker and stronger fabrics. They are early more heavy than a hiking backpack of the same size. Whatever adventure activity you want to get engaged in, there is a best tactical backpack for all your needs. There are various kinds of tactical backpacks available on the market today. You can purchase one online or from the shops nearby.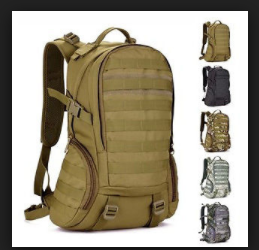 Below mentioned are different kinds of tactical backpacks for you to choose from:
1. Maxpedition Sitka Gearslinger – if you want to go light and fast, this tactical pack is the one to have. With just 15 liters, it is the smallest backpack of all the tactical backpacks. It is more costly than the other packs, but once you buy it, you will love the accessibility and the quality of the same.
2. Hazard 4 Plan-B Sling Pack – this one is the best example of a great sling backpack, it provides you with as much gear as you need and is highly customizable.
3. Tactical Tailor Flight Light Removable Operator Pack – the one which is designed with flexibility in mind and is well made 19-liter backpack. According to the need, it can be attached to larger using attachable buckles.
4. Blackhawk Cyane Dynamic Tactical Pack – this backpack has a fairly innovative design and is 21- liter low profile pack. The well-padded straps give comfort to your shoulders and sit lower on your back to provide you with a stable posture.
5. Maxpedition Falcon-II – it is the best tactical backpack for the ones who wants a solid everyday built as well as enough space for the essentials. It contains four compartments and is 23-liter.
Choose the best tactical backpack from the above-mentioned types that suit your needs the best.