The Empire EVS Paintball mask retails for almost $200, though you can buy it for about $150. If you went to online sites like Amazon, you will notice that the mask is extremely popular. Why is it popular and considered one of the best paintball mask amongst hundreds of masks out there?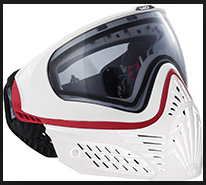 There are several reasons.
First of all, you get the fabulous field of vision. Unlike other paintball visors, there is no nose bridge that restricts the visor's design. So, you won't find any blocked views around your nose arch. In fact, it can be safely said that the Empire EVS has the best field of vision ever, in the history of paintball masks!
Next is the dual paned lens quality. With such a large lens, Empire had to be very careful about anti-fogging properties and they have done a fantastic job with this lens. It doesn't fog no matter what you put it through; sun, rain, heat, cold or heavy breathing. Of course, there might be a few patches of fog if you wear it for 5 or 6 hours. But, that is a problem that you will have even on the most expensive car windshields. All you have to do away that little fog is to tip the visor open for a few seconds, to let the hot air out. It probably won't happen though.
The skirt or the bottom of the mask is flexible and collapsible. This will allow you to bounce off paintballs when you get hit in the jaw. Of course, when you crawl and slither on the ground, scouting your opponents, the collapsible nature of the mask is going to make sure that your mask doesn't move around much.
Comfort with this mask is excellent. It uses very comfortable triple density foam that hugs your face in the softest of manner.